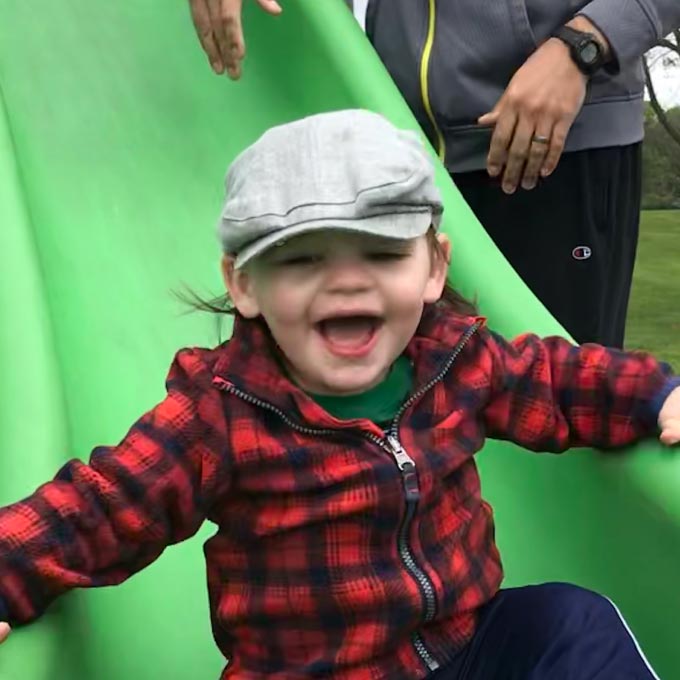 Jett, Living with Dravet Syndrome
Allison and Matt first met at a barbeque festival in 2010 and six years later they were married. The life of this young family of four changed forever when their youngest son, Jett, was diagnosed with Dravet syndrome in 2020, at five months of age.
The Encoded Team recently sat down with Allison and Matt to learn more about how Dravet syndrome has impacted their family:
Can you tell us a bit about Jett?
He's just such a wonderful little boy, affectionate and loving. He has his people, and he always wants to be held or to play with your hair or pat your back. Jett loves to run around and to play with his older brother and the family dog, a corgi.
 Jett also loves to be outside, which is the most heartbreaking thing. We can't go outside for more than a couple of minutes without having lots and lots of drop seizures and then eventually a bigger one. He deserves a life where he can run outside, play and swim. He just deserves everything in the world. I really hope that one day he and so many other kids get some relief. They deserve it; they really do. It's not fair.
How did you learn that Jett had Dravet syndrome?
His first seizure was at three months old. After his evening bath, he had a 17-minute seizure that took us to the hospital where everything seemed fine. So, they sent us home. Then, about a month later, again after a bath, he had another seizure. Two weeks later, he got his vaccinations, which triggered more seizures. At this point they did an EEG, which came back normal. So, they then did a genetic test.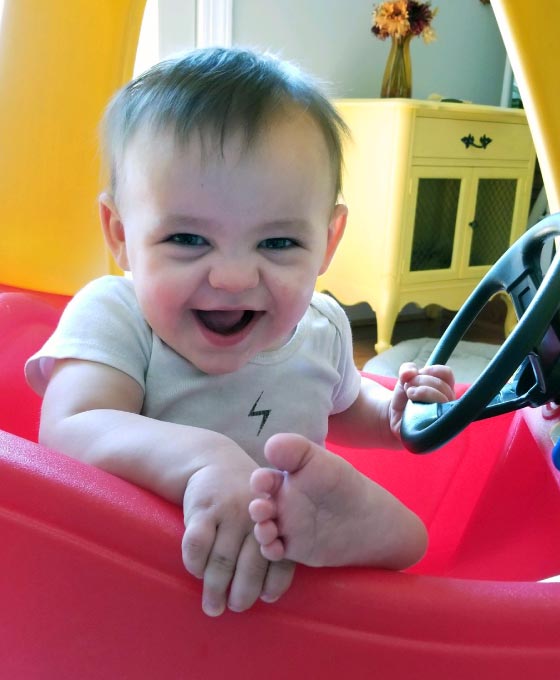 His first seizure was at three months old.
During this time, we had asked a few of the doctors about Dravet syndrome because we went down a worm hole researching online and trying to find anything that was relatable. We kind of knew that this was the only diagnosis that fit. However, the doctors were not saying it yet.
Then in April 2020, we got a call to come in, and we knew that was not a good sign. The doctor handed us the genetic test results, which showed that Jett had an SCN1A gene mutation, and I said, "That's the Dravet syndrome one," and he asked, "How did you know that?" It was devastating. Terrifying. We had a very quiet ride home. Crying to ourselves. Crying together. It was because we had read the stuff on the internet, and we knew what might be in our future.
How has life changed for your family since learning of Jett's diagnosis?
We feel like it has changed a lot – we kind of hit the pause button on everything we used to do. We were very outdoorsy, love to camp and hike, very everyone goes everywhere together like taking walks, going to the park, playing in the yard. Now that those are limited, we are still trying to figure out what we enjoy as a family now. It's now more one of us takes the older kid and the other one stays inside and hangs out with Jett.
We kind of hit the pause button on everything we used to do.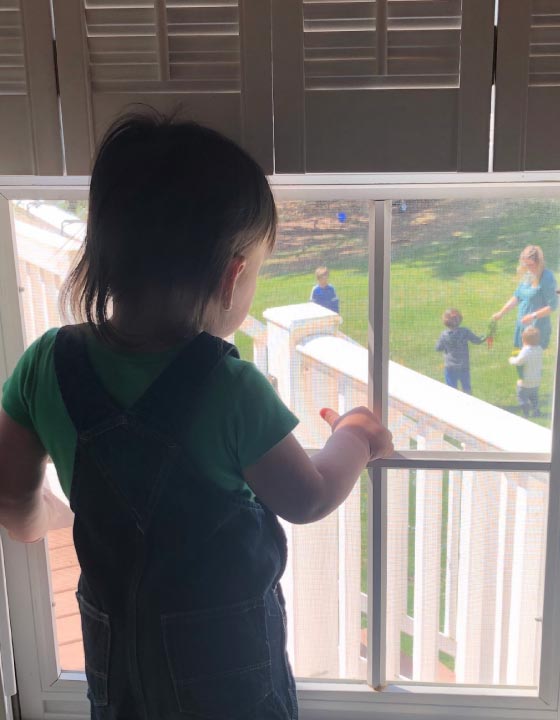 Jett has an older brother. What has been his experience?
His brother definitely understands that Jett has Dravet syndrome and that he has seizures. He has seen lots of emergency situations over the last year and a half. There was one time when my mom was watching the boys and Jett started having a seizure. He told my mom exactly what to do; he pretty much took on our role and was comforting his brother. He has been really incredible.
What would you say to a family who is just now learning that their child has Dravet syndrome?
I would tell newly diagnosed families to buckle up. It's not an easy ride and I'm so sorry. Try to stay positive. Know there's a spectrum, so maintain the positivity that they could be on the better side. Also, your child is so much more than this. Especially as a baby when their personalities don't really come out and all you think about is Dravet syndrome, it's hard. As they grow up, you realize that there's so much more to them. Dravet syndrome is not what defines them.
We would like to thank the Allison and Matt for sharing a piece of their personal family journey with us. If you would like to share your family's story, please email patientadvocacy@encoded.com. By providing your information, you agree to allow Encoded Therapeutics to collect the name and email address provided and to be contacted by Encoded and its partners using this information.